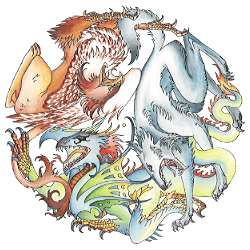 Welcome to Gryffon, Dragon & Wolf
Welcome to the Gryffon, Dragon & Wolf website. Herein you can find information on our company, products and services offered, and a little bit about what we're up to these days. Please read about us and our products, and you can find individual links in the frame below to pages dedicated to our incense, bath salts, oils, and herbs as well as the other arts & crafts and services which we offer.
While we have been absent from the Central Coast Renaissance Festival for a few years, we are still in business, and Jennifer is still taking her artwork to several of the local multimedia conventions. As usual, we'll be attending Baycon and Silicon, and a few assorted other local conventions.
Please enjoy browsing through the website, we have tried to make it both informative and pleasing to the eye. If there is something that you'd like to know, feel free to contact us, whether it is just an idle curiosity, a concern, or an inquiry about a special order.
If you have any questions or comments about our company, please feel free to drop us a note. We look forward to hearing from you!